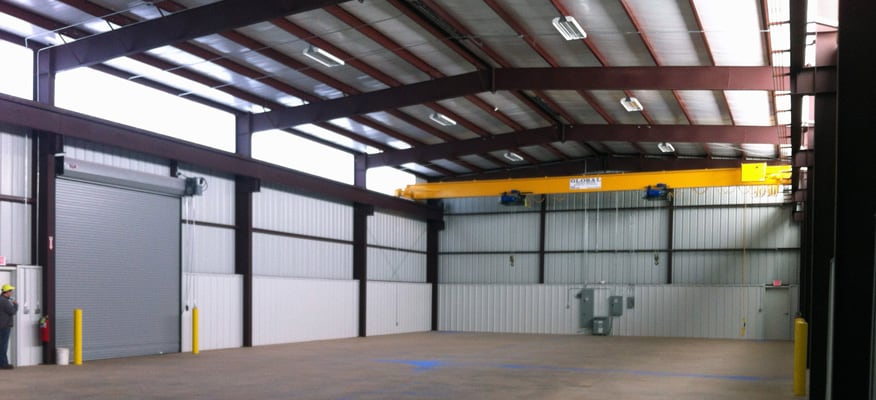 The industrial sector has always been in high-demand for steel buildings to satisfy their construction needs. Whether it's manufacturing or warehouse space, industrial buildings can face demanding daily work conditions and require large spans of wide open spaces and tall vertical clearances. Steel buildings offers many design and construction benefits that other materials don't, and Oklahoma Steel offers a building process like no one else can.
The basic design and structure of our pre-engineered steel buildings allows for wide spaces to be spanned without the need of support beams. This means that your entire space is available to utilize without restriction. This makes steel buildings the perfect selection for warehouses or large machinery storage.
No matter the use that you're planning for your new steel building, the customization options are practically endless. Needing large overhead doors? No problem. Needing to add custom ventilation for your space? We've got you covered. No matter the request we'll work to make sure its accomplished in your building.
Whether you have inventory that needs to be climate-controlled or your new steel building is a daily workspace for employees, Oklahoma Steel offers insulation options to meet the needs of your new space.
Benefits of Steel for Industrial Buildings
•
Safety
Regardless of the function of your new building, the building's material is an important selection. Steel is non-combustible, making it one of the most resilient options to build with. This fire-resistant characteristic far exceeds the safety of traditional wood frame or even fabric structures.
•
Durability
The strength and durability of steel means that your building is built to last. No matter the daily working conditions, a steel building has a long lifespan and requires little to no maintenance.
•
Economy
Many steel buildings are pre-engineered, allowing for lower costs and an expedited construction process. Industrial steel buildings are an excellent option for a cost effective building solution that stands the test of time.