A thriving community requires a lot of infrastructure. Whether its a fire station, a new performance auditorium for your local school district, or more indoor space at your town's sporting complex, metal buildings make excellent and efficient options to help communities grow. For over 20 years, Oklahoma Steel Building Systems has been working with communities around Oklahoma to expand the kinds of community space that exists in their towns and neighborhoods.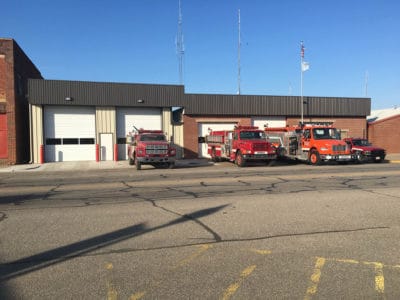 Community buildings can serve a wide number of purposes, and each community has their own building style. Metal buildings offer a wide variety of customization options, both exterior and interior. Your metal building's exterior can be finished with a variety of facades including colored steel, brick or stone, or even wood. Your building's interior can be finished with custom flooring, lighting, and paint color.
Many community buildings are focused on group activities that can require large amounts of uninterrupted space. The basic design and structure of our metal buildings allow for your space to be spanned without the need of support beams. This means that your entire space is available to utilize without restriction, making metal buildings a perfect solution for auditoriums or performance spaces.
Oklahoma Steel offers turnkey building options. Turnkey construction offers expedited construction processes and lower costs. This means that once you have approved your project's specifications and pricing, you sit back while your project is completed from framework to flooring. At the end of the build you're handed the keys to your newly completed building, which is move-in ready.
Benefits of Community Metal Buildings
• Safety
The safety of community members using the new space, as well as the protection of the community's investment is paramount. Steel is non-combustible, making it one of the most resilient options to build with. This fire-resistant characteristic far exceeds the safety of traditional wood frame buildings.
• Durability
The strength and durability of steel means that your building is built to last. No matter the type of daily use, a metal building has a long lifespan and requires little to no maintenance.
• Cost-effective
Many metal buildings are pre-engineered, allowing for lower costs and an expedited construction process. Metal buildings are an excellent option for a cost effective building solution that stands the test of time.